HDLoader for Playstation 2
-----------------
Instructions of HDLoader
It is considered that you already read the preceding page and that consequently you already installed the hard disk using the adapter modem.
put on the HD LOADER CD

first page

the disc must be formatted





formatting of the hard disk ps2

caution, it is necessary to accept: "HD Loader is not made to pirate plays, and one must have the original..."

no videos games on the hard disk for the moment





choose "install"

take the original videos games in the reader
According to cases', it will be necessary to give a name to the videos games (to be able to find it in the menu). Using the "joystick" one chooses the characters, then sélectioner is needed "END" (according to the handbook, but look at the remark below)

Important remark:

translation or programming error on the French version... It is necessary to select "Suppr" instead of "END"...

Then time should be had patience that the videos games is copied from the hard disk of the PS2
For this example, I put Air Blade, the gamemakes 4 Gb, and that copy was done between 20 and 30 mn.
| | |
| --- | --- |
| the game is on the hard disk | and you can play with ! |
| | |
What does it occur if the hard disk is not compatible?
Nothing serious good, you have simply this error message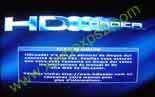 CAUTION:
The HD Loader is withdrawn of the sale at the request of Sony
These pages is left only to show that the PS2 also can manage a hard disk